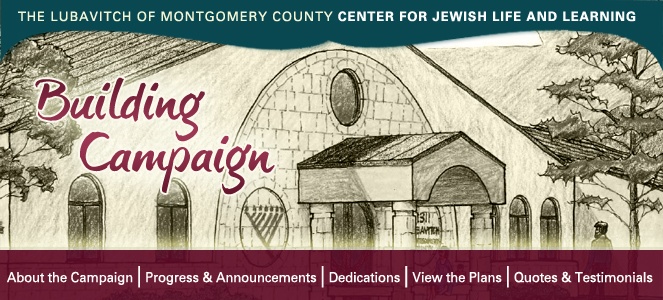 Quotes & Testimonials

Rabbi Shaya Deitsch, Director, Lubavitch of Montgomery County
"Lubavitch follows the central teaching of the Lubavitcher Rebbe – that all Jews are really one soul. This is evident at any one of our programs. Whether it be a Chanukah,Purim or Lag B'omer event, adult education class or synagogue services, you will always meet Jews from all walks of life. Because at Lubavitch you don't see labels, you see souls."


Devorah Deitsch, Educational Director, Lubavitch of Montgomery County
We often forget that the child is not just a miniature adult, but rather a unique individual who should have opportunities to see the world from his/her own relative points of view. There is a huge difference between the mind of a child and that of an adult; Lubavitch honors, and works with, this difference.

Israel Roizman Supporter
"I strongly believe in the need to invest in the continuity of the Jewish people. To accomplish this we are building an edifice in which we will be able to educate the young and old alike. Througheducation and the important programs of Lubavitch, we will be building a stronger Jewish community and ensuring that our sacred heritage will be kept alive for generations to come."
 

Dini Gurevitz, Preschool Teacher
"Challah baking is a signature experience at SELC – it's got everything – science, math, language, a hands-on sensory activity, and, of course, the story of our people. It tastes and smells so good – and best of all, every child can say: "I made it myself!"

Sareva Stern Naor, Stern Foundation Representative
"At the Stern Early Learning Center there is an excitement and a passion about beingJewish. It's not just, 'We are learning this because it's our tradition,' but: 'We are learning about our tradition because we love our tradition.' The teachers excitement rubs off onto the children. Lubavitch touches the child all the way through and deep inside. Lubavitch inspires. And young children like to be inspired."


Neil & Susan Cooper, CHS parents
"Chabad Hebrew School and their innovative Aleph Champ program has fostered great enthusiasm for learning in both of our boys. Now we find that rather than our needing to challenge them, our boys are challenging each other to learn more Hebrew, and to read faster and better. We are also constantly amazed by the little tidbits that ourkids pick up about Judaism, holidays and customs that we never learned ourselves. In some ways, we feel like we are going to Hebrew school too, and we love it."


Dr. Judy Sherwood
"The classes and learning that I have done with Rabbi Shaya and Devorah have opened my heart and shown me the joy of Torah-based Jewish learning. Through these experiences I have grown in all areas of my life, including even my eating and commitment to Kashrut."


Leonard Levin
At Lubavitch, I don't just get book learning. I learn from my ongoing dialogue with the rabbis - sometimes we agree, sometimes we choose to disagree. I learn from discussion with others that attend. I learn from doing – like by attending weekday minyan. Then there are opportunities – like the kiddushim or the holiday – where I get to learn.

Harry Ringel
"For 25 years I had been a member of a larger synagogue. It was a friendly place, but after a point I found myself going only for social reasons. My Judaism was languishing. Then my family discovered Lubavitch of Montgomery County. The atmosphere is open and alive. Discussions at services lead us into Torah, into mysticism, into contemporary life. Rabbi Shaya and Devorah Deitsch are warm and genuine in their approach to Judaism. Their only agenda is to share their love of Judaism and to provide an environment where Jews of all backgrounds can explore ways for their Judaism to grow. The delicious kiddush after services, the warmth andcamaraderie, are there as well. My family and I love our involvement with Lubavitch of Montgomery County. It has helped us to reclaim our Judaism." while having a good time."


Dr. Rick Rosen
"Chabad is a warm and friendly place where we feel comfortable, no matter what level of knowledge or observance we have. The Rabbi, rebbitzin and their family are a great model for Jewish living and observance, and we feel free to bring our friends and family to services and events. There are always educational activities, available services and holiday celebrations that make us feel part of a living and exciting Jewish community."